Lunchpacking Guide
There are few things about me that one who characterize as "Typical Dietitian," but packing my daughters lunch just might. It's one of the things I do after a long day to have lunch ready to go for our morning routine out the door.
I know there are a plethora of beautiful blogs, entire Instragram accounts to swoon over and relish at parents who cut perfectly shaped flowers, crustless sandwhiches and homemade rollups, disclaimer: mine is not one of them.
I make lunches with these things in mind:
It's my job to provide a nourishing meal with flavor and variety

Making lunch for my daughter is my way of connecting with her when I can't physically be there & ensuring she is well cared for

My lunches don't have to be Instagram worthy to be healthful & I don't need to spend extra money of lunch packing supplies
Don't be afraid to think outside of the box (sandwich box for that matter). I rely heavily on dinner leftovers for lunches, and often when I haven't made it to the store improvise with tortillas, bagels, frozen waffles or other things- this adds variety to her lunch.
Other things to Note
I love getting inspired when I feel like I'm in a lunch making rut. Some of my favorite resources from pediatric Registered Dietitians are:
Tribeca Nutrition
Raising Health Eaters
Jill Castle
& when I'm feeling extra creative, I peruse Lunchbox Dad Pinterest page, he is so creative!
PS: In no way am I trying to gross you out with the photos below, just want to give some samples. Our preschool is nutfree for allergies.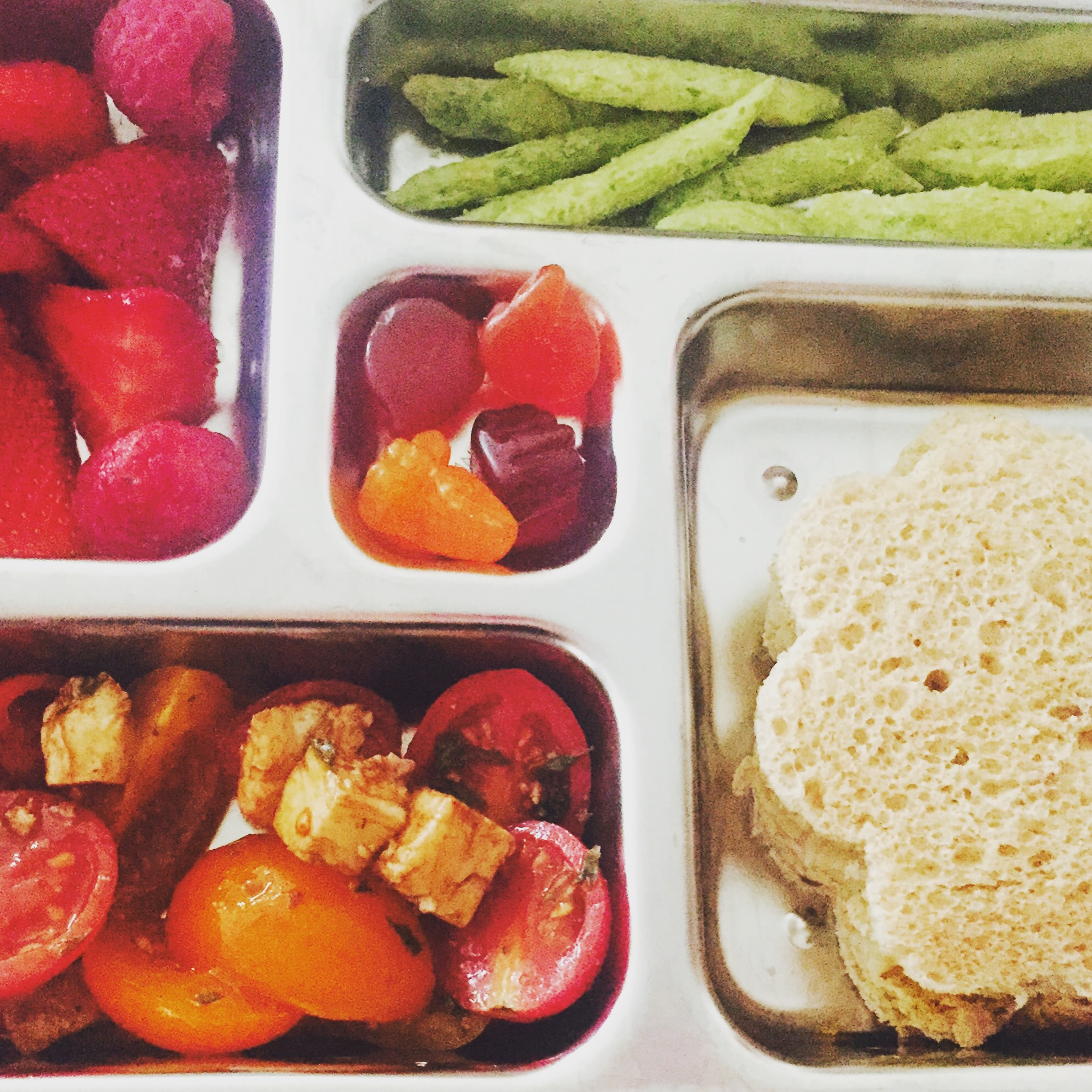 sunflower butter + jelly sandwich, crispy snap-peas, rasberries, caprese salad + fruit snacks
leftover honey salmon + edamame + quinoa, dried figs (sliced), strawberries + sliced cucumbers